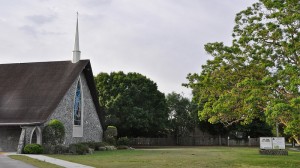 Music and Arts
Chancel Choir (Adult)
The Chancel Choir is an integral part of the 10:45 a.m. worship service. Some members can read music, but this skill is not necessary for participation. All share in a special fellowship that singing together enables. All that is required is a willingness to appreciate and sing good music and attend weekly rehearsals on Wednesday nights from 7:15-8:30 (except during the summer). Beth Meadows, the Choir Director, can be reached by calling the church office at (407) 898-6571.
Grace Singers
Grace Singers is a small vocal ensemble that supplies "praise choruses" for the 8:30 worship service.
Handbell Choir
The Handbell Choir rings to the glory and praise of God, and is made up of people of varying musical abilities. The two main skills that ringers should have are the ability to count notes accurately and the ability to read notes on the bass or treble staff. Newcomers are slowly acclimated into the choir without the pressure of having to ring for worship services until they feel ready. The group is compassionate, caring, and supportive of its members and welcomes new ringers enthusiastically. For more information contact Marie Loeffler at (407) 898-6571.
Guys Gospel Group
This is our men's vocal ensemble which meets at various times in the year on Sunday mornings. All men in the congregation are welcomed to join us in "barbershop" styles of favorite hymns and other church music.
For more information call the Church office at 407-898-6571
 Children and Youth
For your child to participate in these activities please complete
this Parental Authorization and Release form
ARK Student Youth Ministry
Youth of our congregation enjoy events emphasizing both fellowship and spiritual enrichment. Our programs relate faith to the everyday lives of young people and are available to both Middle and High School ages.
ARK Student Youth Group
The Youth Group meets regularly on Sunday evenings from 4:00 to 6:00 p.m. for dinner, games, and a time of learning and sharing in the Youth Rooms and Gym of Conway Hall. Grades 6-12 are welcome. Youth group leaders are Jody Mask and Paul Hambidge. The goals of our youth program include: providing an opportunity for young people to work through their beliefs, ask questions and grow in their faith; and encouraging them to put their faith into action through fellowship with each other and service to the church and community.
Highlights of the youth program include participation in a variety of service projects to church and community, fundraisers to support our ministry activities, and fun events like camping at a local campground and the High School Trip, which is usually skiing in North Carolina.
ARK Youth Group
The ARK Youth Group is a place where youth can grow in their understanding of God's love for them. The classes enjoy fellowship with their peers and learn basic truths to help them face life's challenges.  Classes meet from 9:30 – 10:30 Sunday mornings in the Youth Rooms in Conway Hall.
Confirmation Class
Confirmation Class is held periodically to acquaint interested youth in Biblical principles and information on the Presbyterian Church. The youth are encouraged to attend this class when they feel ready to further explore becoming members of the church and a deeper faith walk.
Contact information:
For more information on ARK Student Youth Group, please contact Jody Mask or Paul Hambidge, who can be reached through the church office at 407-898-6571.
For up-to-date information please visit and "Like" our Facebook page.
For more information on Sunday school or confirmation class, please contact Candy Vander Weide at 407-898-6571.
Children's Ministry
Nurturing faith in children is one of our most important tasks. Accordingly, children are included in every phase of our congregation's life. From children's sermons and special bulletins in our worship service to education, fellowship, seasonal programs, and mission projects, we strive to provide ways for children to grow in faith.
Sunday School
Sunday School is a place where children can grow in their understanding of God's love for them. The children are separated according to age group:
Nursery: The nursery is staffed during worship and Sunday school with loving caregivers who share the love of God and the church family with our youngest members. Parent pagers are available upon request so you may be reached if needed.
Toddlers: This room is for the little ones who are "steady on their feet." Simple truths and songs help them learn that God loves them and that the church is a loving and fun place to be.
Preschool: In a caring environment, three- and four-year-olds learn that God made the world, that Jesus loves them and that children are important to God and to our church family. This class is also staffed during the 10:45 a.m. worship service. Children will be escorted into the service for the children's sermon and then return to the preschool room.
Kindergarten through 5th grade: This age group rotates through rooms to use five learning styles to study the stories of our faith. Check in at the desk upstairs in Halleluia Hallway (Smith Hall) to find the room where your age group meets for the day.
Vacation Bible School
Each summer provides a special opportunity to share the Bible with children. Each year the children participate in Bible study, arts and crafts, recreational activities, music, and a service project.  The dates for VBS are June 17-20, 2013 from 9:00 – 12:00.  VBS is for ages 3 – completed 5th grade.
Music and Arts Program
Cherub Choir
This choir is for children aged three and four. It meets on Sunday as part of the Sunday School hour. The purpose of this choir is to lay a foundation for a lifelong appreciation of music. Children are taught praise and worship songs through repetition and movement. This choir is under the direction of Maxine Gay.
Sonshine Singers
This choir is specially designed for children age 4 through fifth grade.  It meets at the beginning of the Sunday School hour each week and will sing in Worship on the 4th Sunday of the month from September – May. Children are encouraged to not only stretch their vocal chords, but also to expand their faith. If you are interested in knowing more about this choir, call Candy (407) 898-6571.
Music Camp
For students completed K – Middle School held on June 24-27th.
D.E.C.K. (Discover, Explore and Create for Kids) Our annual Art Camp for elementary ages for 2013 will be held July 8– 10 for the younger children from 9:00 am – Noon, and July 15-18, for the older children from 9:00 am – 2:00 pm.  Registrations must be in by June 15, 2013.
Special Activities
Special study and activities are a part of the Children's Ministry. Special classes on Wednesday evenings during Lent, Easter Egg-Citement, the Cross of Love, and special Advent activities such as a Children's Christmas Pageant are included to bring times of extra learning and fellowship. Children's choirs offer a chance to lead in worship.
For over 20 years, Small Blessings Childcare has been nurturing, teaching and loving children. Along the way, Small Blessings has become an integral part of the community.
As a ministry of Grace Covenant Presbyterian Church, Small Blessings Childcare is dedicated to meeting the needs of the working parent and providing quality education from a Christian standpoint. To learn more about Small Blessings Child Care please click here.
Contact Information
If you would like more information about our Children's Ministry, please contact Candy at (407) 898-6571.