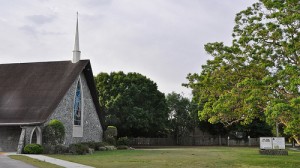 Christian Education Opportunities
Our extensive Christian Education program provides an environment where adults can have their faith enriched through Bible studies, evening classes, retreats, and workshops. We believe that our faith is strengthened through our relationships with one another.
All Sunday School Classes meet from 9:30 – 10:30 am. There are currently five continuous adult Sunday groups. We invite you to visit the classes to find the one you would like to attend regularly.
1.           Earl Tyson Class: This class has existed for most of the life of the church since its founding in 1947. Class members voted to rename the class after Rev. Tyson, a beloved former teacher, following his passing in 2004. Our current teachers coordinate the curriculum and typically draw from published Sunday school lessons. The class meets around coffee and cake in classroom 4 of Smith Hall at 9:30 AM each Sunday.  Needs, concerns, and celebrations are shared and offered to God in prayer before our lessons.  Members of this class represent a wide range of ages and cultural backgrounds.  The Earl Tyson class is noted for its support to the servicemen and women listed in the church bulletin and has earned praise for those efforts both from within the church, the servicemen and women themselves, and from one high level cabinet official in the federal government.  New members and visitors are always welcomed.
2.           Present Word Class: This class uses the Present Word Bible study curriculum published by the PCUSA. The leaders for this class are Kermit Gay and Jack Shirek and meets down stairs in John Calvin Memorial Hall.
3.           Seekers Class: Leadership for this class varies as members share in directing the studies. Studies in the class vary from Biblical topics to Contemporary Issues. The class meets in Room 16. The group welcomes new members and any one can attest that there are some lively discussions in this group!
4.          Doorpost Class Group:  This class which includes a mix of all ages meets in Room 6 in Smith Hall for fellowship and basic Bible study.  Leader is Glenn Widick.
5.           Koffee Klatch:  This is a place to meet over a cup of coffee casually for fellowship and discussion. No formal lessons are planned.  Sandee Smith co-ordinates this time which meets in the Reception area of Conway Hall.
Sunday School for children and youth
Sunday School is a place where children can grow in their understanding of God's love for them. The children are separated according to age group:
Nursery and Toddlers: The nursery is staffed during worship and Sunday school with loving caregivers who share the love of God and the church family with our youngest members. Parent pagers are available upon request so you may be reached if needed.
Preschool: In a caring environment, three- and four-year-olds children learn that God made the world, that Jesus loves them and that children are important to God and to our church family. This class is also staffed during the 10:45 a.m. worship service. Children will be escorted into the service for the children's sermon and then return to the preschool room.
Kindergarten through 5th grade: This age group rotates through rooms to use five learning styles to study the stories of our faith.  All ages meet in Praise Place (room 11) for celebration and praise before going to individual rooms with their age group for the day's lesson.  The study for the 2019-2020 school year will be K.I.D.S. (Kids Investigating Divine Stories).  Summer study for 2019, beginning June 2, will be "Joy Builders".  The new Fall Sunday School year will begin on August 18 with a kick-off breakfast in Conway Hall.
Middle School and High School:  These age groups meet separately in the Youth Rooms in Conway Hall. The Middle School uses LinC curriculum which uses current events or movies or music to teach how to apply Bible truths to the information in their everyday world.  The High School focus is "The Word and Wa-Wa".  After a walk to WaWa for a snack, the group returns to the church for a time of Bible study.
Table Talks: Offered periodically on Wednesday evenings these  groups operate as a topical discussion or inquiry during a time of dinner study and fellowship around a table of 8-10 friends. The next session will be August 7, 14, 21 and 28.  There are 3 or 4 classes to choose from.  Reservations are due by July 28.
LIBRARY
The Library is located in Room 4, Smith Hall, first floor, in an inviting room, filled with 2400 books, videos and audios. There is something for all ages. Theses are excellent resource materials for Bible Study with a large selection of books for inspirational help and spiritual growth. Children enjoy the beautiful [picture books, easy readers, and then the Young Reader collection. Other shelves contain fiction, biographies, family living, humor, health, and general interest selections.
You are invited to visit the Library any time the Office area is open. Easy instructions for self-service are posted at the checkout counter near the entrance. The Library is maintained by volunteers under the leadership of the Christian Education Committee.