LEADERSHIP
Rev. Dr. W. Maynard Pittendreigh – Senior Pastor / Head of Staff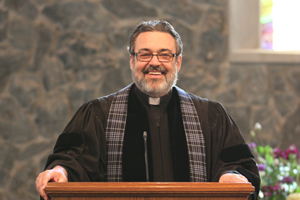 Maynard is a native of South Carolina. He is a graduate of Erskine College. He received his Master of Divinity at Erskine Theological Seminary and his Doctorate at Columbia Theological Seminary. He has also received a Certification in Church Business Administration, which he studied at Union Theological Seminary in Richmond, Virginia. He has served pastorates in Sumter SC, Brunswick GA, Miami FL, Atlanta GA, and Fort Myers Beach FL. He is the author of several books and articles, including "The Presbyterian Church Welcomes You," a book written especially for new members in the church. He and his wife, Ginny, have been married since 1975. Ginny is an elementary school teacher who works in the Orange CountyPublic School system. They have one son, John, who is married and lives in the Orlando area. You can learn more about our pastor and read his recent sermons by visiting www.pittendreigh.com.
Ms. Candace (Candy) Vander Weide – Commissioned Lay Pastor
Candy is a native "Orlandoan," and grew up as an active member of First Presbyterian Church of Orlando and served on staff there for 5 years.
Candy joined the staff at Grace Covenant Presbyterian in 1987. In 2001, after completing a 3-year study, Central Florida Presbytery commissioned her as a lay pastor.  She has served on and chaired the Presbytery's Leadership Development Committee, served on their Pastoral Care Committee and is currently on the Nominating Committee for the Presbytery.
From the age of 12, when she began teaching in a Sunday School class, Candy has been actively involved in Christian Education ministry.  Candy thoroughly enjoys a call to ministry that involves a broad job description and many opportunities to love and serve people of all ages.
Mike Beam – Interim Director of Youth and Family Ministry
A "semi-native", Mike moved to Orlando at 18 months old when his family became stationed at McCoy Air Force base. He graduated from Auburn University, having attended on a swimming scholarship.
Mike has felt Christ's call to minister to students and young adults for the past 28 years. He volunteered 15 years with the First Presbyterian Church-Orlando's Youth Dept. for 15 years before becoming the full-time Director of Youth Ministry at St. Michael's Episcopal Church in College Park, serving there for 12 years. He retired in August '17 and has served as a volunteer here at GCPC's Youth Dept. since Sept. '17. Mike served on The Great Escape-Southwind planning team, coordinating and leading the rec events for the first two years. He currently serves on the Board of Directors for Aldersgate Chrysalis (21 years), and recently The Russell Home for Atypical Children (1 year) where he is a full-time volunteer.
Mike is married to Vantrease Blair, a member of GCPC, and they were married at GCPC. Vantrease is the Executive Director for The Russell Home for Atypical Children, where they became legal guardians to Emily, a special needs child from China. Vantrease has two adult children, Heath (Ashley), and Jerrod (Megan) Blair, each has blessed them with a grandchild.
Mike's interests are playing guitar, thinking about working out, imagining a good golf game, and chasing Emily.
Rhonda Edmiston – Church Secretary
Rhonda is a native Floridian.  She was raised in central Florida and graduated from the University of Central Florida.  Rhonda and her husband, David, have lived in the Conway area for over 30 years. She is a long time member of the Chancel choir and became Secretary of Grace Covenant in 2011.
Dr. Kelly A. Miller – Choir Director
Kelly received her doctor of musical arts degree in Choral Conducting from Michigan State University in 2010. Since 2012 she has been with the University of Central Florida as the coordinator of music education and the director of women's chorus.  Dr. Miller has worked in music ministry with Methodist churches in Michigan and with Presbyterian churches in Florida and Nebraska.  She plays the flute and saxophone.
Barbara Browning – Organist
Barbara Browning is our organist. She has a B.S. in Church Music and Music Education from Cincinnati Bible Seminary and an M.A. from Southern Baptist Theological Seminary in music education, voice and piano.  She has a 30+ year professional career which encompasses vocal, piano, and organ performance nationally and abroad, teaching private and collegiate levels, composing, organizing and directing vocal ensembles, choirs, and producing musical and theatrical productions.  She has been an instructor at Valencia College since 1998, St. Andrew's Music Conservatory since 2006, and currently has a private studio of 20 students.
Phyllis Cornell – Financial Director
Phyllis served at our sister church, Park Lake Presbyterian from 1996 through April, 2015.  Prior to becoming the Financial Director at our church in 2015, she served as our Financial Secretary.  She is a native of Miami and graduated from St. Andrew's Presbyterian College in North Carolina.
Kimberly Cliett – Director, Small Blessings Child Care
Rev. Harvey J.C. Oster, III – Associate Pastor Emeritus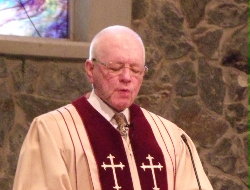 Harvey Oster ("Harv O") is a native of Detroit, but calls Seattle his boyhood home. He is a 1963 graduate of San Francisco Theological Seminary and has done advanced study at Princeton and Louisville seminaries. Harvey served ten congregations – in various pastoral positions – in the states of California, Pennsylvania, Texas and Florida. In executive service, he served 17 years with the Synods of Florida/South, concluding this service as Associate Executive for Educational Ministries in the six southeastern states in 1987. He also served the Office of the General Assembly as Executive Coordinator for the 205th G.A. meeting in Orlando, 1993 – and, as Executive Director of the Celebrate the Future Campaign for Central Florida Presbytery, 1997-1999.
Harvey was Honorably Retired in 2001. He was invited to serve as Parish Associate with Grace Covenant in 2005 and again in 2008 and 2013. From 2011-2013 he was Interim Associate Pastor. His hobbies are sleeping – reading – cruising the oceans of the world – loving people of all ages.